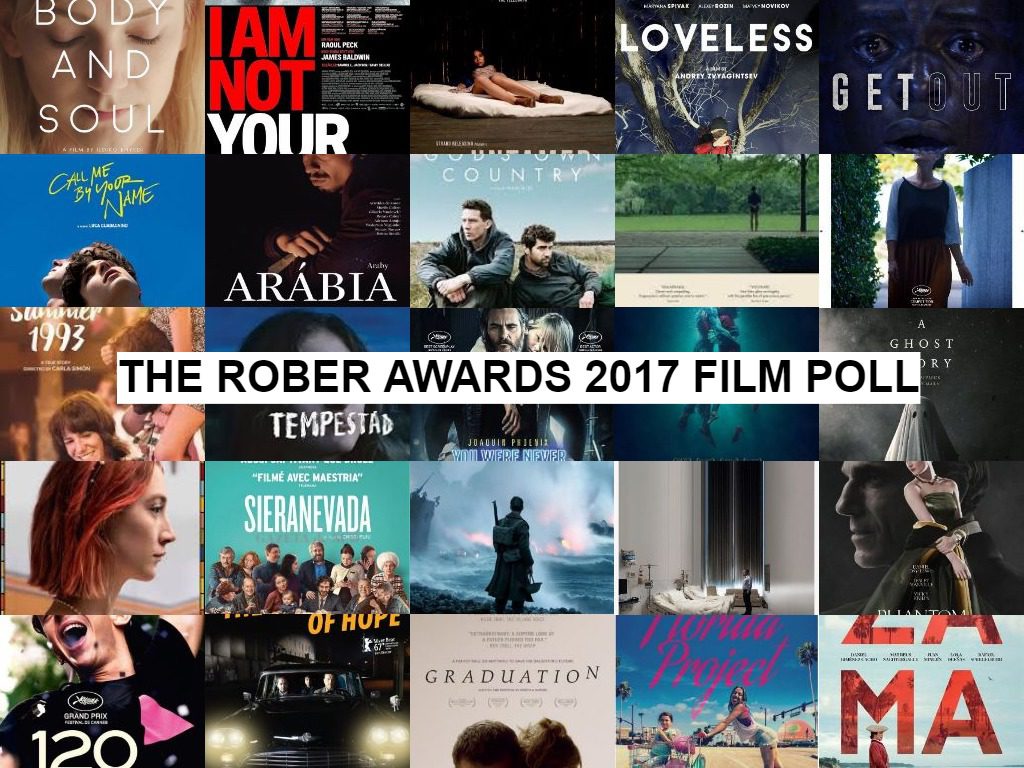 The 2017 Rober Awards Film Poll is up and running, open for everyone to cast their votes. Sean Baker's extraordinary look at the lives of the American underclass in The Florida Project leads the list of nominees with eight, followed by gay romances Call Me By Your Name and God's Own Country and Lynne Ramsay's psychological thriller You Were Never Really Here with six each.
Christopher Nolan's recreation of the Dunkirk evacuation; Greta Gerwig's personal account of her teenage years in Lady Bird; French AIDS drama BPM (Beats Per Minute); Paul Thomas Anderson's superbly crafted Phantom Thread and Lucrecia Martel's big screen adaptation of Zama are among the other films with multiple nominations.
To refresh our memories recalling the best films of the year and help with your deliberations, here's a Spotify playlist with excerpts from the soundtracks of most of this year's nominated films.
Complete Tracklist:
1 THE FLORIDA PROJECT Celebration KOOL AND THE GANG
2 CALL ME BY YOUR NAME Mystery Of Love SUFJAN STEVENS
3 GOD'S OWN COUNTRY The Days PATRICK WOLF
4 PHANTOM THREAD Phantom Thread I JONNY GREENWOOD
5 DUNKIRK End Titles HANS ZIMMER & BENJAMIN WALLFISCH
6 LADY BIRD Title Credits JON BRION
7 BPM Smalltown Boy (Arnaud Rebotini Remix) BRONSKI BEAT
8 AQUARIUS Hoje TAIGUARA
9 BLADE RUNNER 2049 2049 HANS ZIMMER & BENJAMIN WALLFISCH
10 GET OUT Ukulele Walk TIMOTHY WILLIAMS & MICHAEL ABELS
11 THREE BILLBOARDS OUTSIDE EBBING, MISSOURI Mildred Goes To War CARTER BURWELL
12 SIERANEVADA T-Birds BLONDIE
13 A GHOST STORY I Get Overwhelmed DARK ROOMS
14 THE SHAPE OF WATER La Javanaise MADELEINE PEYROUX
15 THE BEGUILED Concerto In B Minor (Op. 35) OSKAR RIEDING
16 A FANTASTIC WOMAN Titles MATTHEW HERBERT
17 GRADUATION Stabat Mater RV. 261 ANTONIO VIVALDI
18 MUDBOUND Mighty River MARY J. BLIGE
19 COLUMBUS Pei HAMMOCK
20 DETROIT It Ain't Fair THE ROOTS FEAT. BILAL
21 GOOD TIME Good Time ONEOHTRIX POINT NEVER
22 I AM NOT A WITCH American Boy ESTELLE FEAT. KANYE WEST
23 MOTHER! The End Of The World SKEETER DAVIS
24 OF BODY AND SOUL What He Wrote LAURA MARLING
25 STAR WARS: THE LAST JEDI The Last Jedi JOHN WILLIAMS
26 THE DISASTER ARTIST The Disaster Artist DAVID PORTER
27 THE HAPPIEST DAY IN THE LIFE OF OLLI MAKI Angelo YKSPIHLAJAN KINO-ORKESTERI
28 THE KILLING OF A SACRED DEER Burn RAFFEY CASSIDY
29 COCO Remember Me MIGUEL & NATALIA LAFOURCADE
30 FILM STARS DON'T DIE IN LIVERPOOL You Shouldn't Look At Me That Way ELVIS COSTELLO
31 I AM NOT YOUR NEGRO I Am Not Your Negro ALEXEI AIGUI
32 I, TONYA Barracuda HEART
33 LOGAN Main Titles MARCO BELTRAMI
34 LOVELESS Drops And Iron Nails EUGVENI & SACHA GALPERINE
35 NOCTURAMA Nocturama BERTRAND BONELLO
36 RAW Ma Che Freddo Fa NADA
37 THE LOST CITY OF Z The Lost City Of Z CHRISTOPHER SPELMAN
38 THE ORNITHOLOGIST Camino De Guanajuato JOSE ALFREDO JIMENEZ
39 THE OTHER SIDE OF HOPE Miehet Ovat Menneet Luotiejakin Päin MATTI ESKO & PEKKA TIILIKAINEN
40 THE POST The Papers JOHN WILLIAMS
41 A CURE FOR WELLNESS I Wanna Be Sedated BENJAMIN WELLFISCH FEAT. MIREL WAGNER
42 BABY DRIVER Bongolia INCREDIBLE BONGO BAND
43 HAPPY END Chandelier SIA
44 FELICITE Tshalemba KASAI ALLSTARS
45 LUCKY Volver, Volver VINCENTE FERNANDEZ
46 THE BIG BAD FOX AND OTHER TALES Le Grand Méchant Renard ROBERT MARCEL LEPAGE
47 LOVING VINCENT Starry Starry Night LIANNE LA HAVAS
48 THE LOVERS It Must Be Love LABI SIFFRE
49 THE NOTHING FACTORY Litti Litti ORCHESTREA BAOBAB
50 THE SQUARE Party At The Castle CLAES BANG
51 THELMA Thelma's Theme TORGNY & SOFT SYSTEM
52 LITTLE WHITE LIES Cold Little Heart MICHAEL KIWANUKA
53 GAME OF THRONES Game Of Thrones RAMIN DJAWADI
54 NARCOS Tuyo RODRIGO AMARANTE
55 THE DEUCE (Don't Worry) If There's A Hell Below, We're All Going To Go CURTIS MAYFIELD
56 THE HANDMAID'S TALE Escapes Within ADAM TAYLOR FEAT. ELIZABETH MOSS
57 TWIN PEAKS: THE RETURN Windswept – Reprise JOHNNY JEWEL