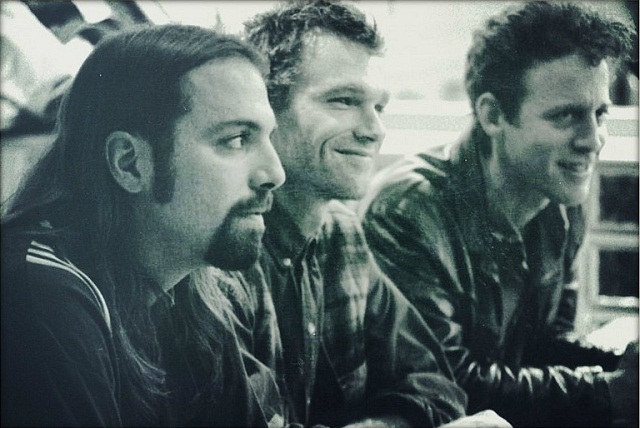 We begin another edition of our retro-loop, the section we dedicate to our favourite not new music, led by Morphine. One of our favorite bands from the 90s, their career came to a tragic end with the dead of their frontman Mark Sandman. Their story is the subject of a new documentary called "Morphine: Journey Of Dreams".
Our brand new retro loop also features songs from classic albums celebrating their respective birthdays by Cocteau Twins; Garbage; The Velvet Underground; etc. Highlights from notable reissues and anthologies by, among others, Swans; Neko Case; Harmonia; Beat Happening; Sonic Youth; Van Morrison; Los Planetas; Mogwai; Earth, Wind & Fire & Lush, whose reunion is likely to be one of next year's festival circuit sensations; plus recent discoveries from the likes of Joanna Billing; Visitors; Patrick Cowley; Clarence G or The Feelies.
Check out our (not) new retro loop here


MORPHINE
Honey White
(Rykodisc)

From the documentary "Morphine: Journey Of Dreams."


JOANNA BILLING
This Is How We Walk On The Moon (It's Clearing Up Again)
(Eskimo)

From Prins Thomas' Mix Album "Paradise Goulash."


VISITORS
Electric Heat
(Optimo Music)

From "Now That's What I Call DIY! (Cult Classics From The Post-Punk Era 1978-82)."


THE VELVET UNDERGROUND
Who Loves The Sun
(Rhino)

From "LOADED: Re-Loaded 45th Anniversary Edition."


SWANS
Love Will Save You
(Young God)

From "White Light From The Mouth Of Infinity / Love Of Life" reissues.


COCTEAU TWINS
I Wear Your Ring
(4AD)

Celebrating "Heaven Or Las Vegas" 25th anniversary.


PATRICK COWLEY
Kickin' In
(Honey Soundsystem)

From the "Kickin' In" EP.


NEKO CASE
Blacklisted
(Anti)

From the "Truckdriver, Gladiator, Mule" vinyl box set.


HARMONIA & ENO
Vamos Companeros
(Grönland)

From "Complete Works" Vinyl Box Set.


THE POINTER SISTERS
Pinball Number Count
(Third Man/Light In The Attic)

From the children songs compilation "This Record Belongs To _________"


CLARENCE G
Clone Aqualung
(Vlone)

From "Hyperspace Sound Lab."


THE MAGNETIC FIELDS
Yeah! Oh Yeah!
(Merge)

From "69 Love Songs" Vinyl Box reissue.


SONIC YOUTH
Tunic (Song For Karen)
(Geffen)

From "Goo" and other vinyl reissues.


AMY WINEHOUSE
Love Is A Losing Game (Live At The Mercury Music Awards)
(Island)

From the "Amy" soundtrack.


BEAT HAPPENING
Teenage Cavemen
(Domino)

From the "Look Around" compilation.


VAN MORRISON
Sweet Thing
(Warner Bros)

From "Astral Weeks" and other reissues.
THE FEELIES
Fa Cé La
(Numero Group)

From the "Ork Records: New York, New York" compilation.
MARIAH
Shinzo No Tobira
(Palto Flats)

From the "Utakata No Hibi" reissue.


BERT JANSCH
Oh My Babe
(Sanctuary)

From "It Don't Bother Me" and other reissues.


LOS PLANETAS
Pesadilla En El Parque De Atracciones
(BMG Spain)

From the 7" reissue.


EARTH, WIND & FIRE
Getaway (Special Disco Version)
(Columbia)

From the 12" reissue.


MIMI AND RICHARD FARINA
Bold Marauder
(Vanguard)

From "The Best Of" compilation.


MOGWAI
Helicon 1
(Rock Action)

From their "Central Belters" compilation.


FRIDA
I Know There's Something Going On
(Polar Music)

Original version of the recent Lindstrøm remix.


J DILLA
Dillatronic #7
(Vintage Vibez)

From the "Dillatronic" rarities compilation.


NENEH CHERRY & THE CIRCUIT
Dead Come Alive
(On-U Sound)

From the "Science Fiction Dancehall Classics" compilation.


PIERO UMILIANI
Nostalgia
(Schema)

From "La Ragazza Fuoristada" OST.


LUSH
De-Luxe
(4AD)

From the "Chorus" Box Set.


GARBAGE
Milk
(Stun Volume)

From the "Garbage" 20th anniversary deluxe edition.


SPACEMEN 3
Big City (Everybody I Know Can Be Found Here)
(Fire)

As featured in the 27th season premiere episode of The Simpsons, "Every Man's Dream".