Posts Tagged Susanne Sundfør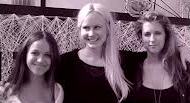 Recorded live and released without much fanfare through her own label, Norwegian chanteause Susanna's joint effort with fellow vocalists Sire Nielsel & Susanne Sundfør,'Death Hanging', has impressed us with the trio's folk-infused haunting harmonies, reaching the top of our loop.
Another standout from Kanye West's much divisive 'Yeezus' is the weeks highest debut, next to brand new offerings by the likes of M.I.A.; Mala Rodriguez; Califone and Schoolboy Q with a little help from Kendrick Lamar .
Check this week's edition here. Read the rest of this entry »
Like Sigur Rós did before, French electronic duo m83 have just answered the call from Hollywood and composed the score for the next Tom Cruise vehicle Oblivion, giving a clear sign they're entering the mainstream through the big door. What was originally announced as a solo work by lead man Anthony Gonzalez has been finally launched under the name of the band and its main theme has the vocals by newest Scandinavian female star Susanne Sundfør; their collaboration tops the new edition of our loop.
And it looks like Norway is replacing Sweden as a new batch of new female artist is being unveiled to the world such as Jenny Hval , our biggest entry this week alongside new songs by Vampire Weekend; Deerhunter; The Flaming Lips and a taster from the eagerly awaited new album by Daft Punk.
Check the new edition of the loop here. Read the rest of this entry »