TOM WAITS-Glitter & Doom Tour (Paris)



No, we didn't go to Paris to see Mr. Waits. Like many others, the capricious location demands and high prices of the living legend prevented us from catching him live. Instead, as a consolation prize we followed his Atlanta gig's broadcast available at NPR music. However, it perfectly exemplifies the main characteristic of the year in live music: the growing demand for veteran artists greatly prevailed against a new batch of bands who do not seem capable to connect with large audiences.
Tom Waits was joined by Leonard Cohen, Neil Young and the long awaited returns of My Bloody Valentine and Portishead gathering five star reviews and managing to amaze, despite their longevity, critics and public alike.
The excessive growth of festival circuit began to produce its first victims, whereas Coachella had to resort to a last minute call to Prince in order to tackle poor ticket sales and Glastonbury, for the first time in history, didn't sell out. Only the most specialized events seemed immune to the fall: Primavera in Barcelona had its biggest year and ATP successfully expanded to New York and Australia.
After the jump, our favorite gigs of the year, illustrated by rather amateur photos in glorious blurryvision, courtesy of the limited number of pixels in our first generation mobiles; in some cases we also found audiovisual material available.



No, no nos fuimos a Paris para ver a Mr. Waits. Como a tantos otros, las caprichosas demandas espacio-temporales y pecuniarias de la leyenda viviente, nos lo impidieron, en su lugar nos tuvimos que conformar con la retransmisión de su concierto de Atlanta ofrecida por NPR Music. No obstante, ejemplifica a la perfección la principal caracteristica del año en lo referente a música en directo: la creciente demanda por artistas veteranos, que predominaban aplastantemente frente a unas bandas nuevas que no parecen terminar de conectar con grandes audiencias.
A Tom Waits, se le unían Leonard Cohen, Neil Young y los esperados retornos de My Bloody Valentine y Portishead coleccionando críticas de cinco estrellas y consiguiendo asombrar, a pesar de su longevidad, a crítica y publico.
La excesiva proliferación de festivales se cobraba sus primeras victimas; mientras Coachella llamaba a Prince en el último minuto para paliar las pobres ventas de tickets; Glastonbury por primera vez en su historia no se vendió en su totalidad. Tan solo los eventos más especializados parecían inmunes al bajón, con Primavera en Barcelona teniendo su año mas internacional y ATP expandiéndose con notable éxito a New York y Australia.
A continuación, nuestras giras favoritas, acompañadas de exclusivas fotos amateur en gloriosa borrovisión, gracias al limitado numero de pixels de nuestros móviles de primera generación; en algunos casos tambien encontramos material videográfico.


25 YEASAYER/DRAGONS OF ZYNTH ICA 06/03/2008

24 SHEARWATER ROUGH TRADE SHOPS 10/2008

23 FANFARLO/EL GUINCHO WHITE HEAT 05/04/2008

22 FUCKED UP CANDEM UNDERWORLD 17/12/2008

21 WOMEN ROUGH TRADE WEST SHOWCASE 08/12/2008

20 JUSTICE HAMBURG DOCKS 23/02/2008

19 VIVIAN GIRLS ROUGH TRADE SHOP 09/12/2008

18 DEERHUNTER ROUGH TRADE SHOP 13/09/2008

17 KELLEY POLAR/JUNIOR BOYS/METRONOMY 02 INDIGO 25/04/2008

16 SOULWAX/2 MANY DJS ROYAL FESTIVAL HALL 24/04/2008

15 CUT COPY KOKO 11/11/2008


14 NO AGE/HEALTH SCALA 11/08/2008

13 BODIES OF WATER CONCRETE & GLASS FESTIVAL 02/10/2008

12 YAZOO HAMMERSMITH APOLLO 20/06/2008

11 NISSENMONDAI/MALE BONDING BARDEN'S BOUDOIR 05/08/2008

10 BLITZEN TRAPPER THE BORDERLINE 19/05/2008

9 PHOSPHORESCENT/JANA HUNTER BORDERLINE 17/04/2008

8 FLEET FOXES/COCKNBULL KID/WHITE WILLIAMS HOXTON GRILL AND BAR 29/05/2008

7 BATTLES/DIRTY PROJECTORS/FUCK BUTTONS ASTORIA 15/05/2008

6 BON IVER/JENS LEKMAN SCALA 20/05/2008

5 TV ON THE RADIO/THE BIG PINK SHEPHERD'S BUSH EMPIRE 19/11/2008

4 VAMPIRE WEEKEN ULU 21/02/2008

3 NICK CAVE & THE BAD SEEDS/SPIRITUALIZED AIR STUDIOS (ALSO HAMMERSMITH APOLLO (07/05)) 02/03/2008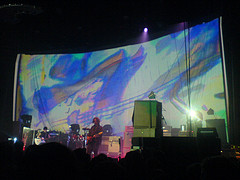 =1 MY BLOODY VALENTINE ROUNDHOUSE 20/06/2008

1 LEONARD COHEN O2 14/11/2008