Despite having earned an Oscar nomination for its star and producer, Nicole Kidman, 'Rabbit Hole' didn't quite convinced us. This film joins a batch of several eagerly awaited movies that didn't live up to the expectations. Read on for those ones that became the biggest disappointments; among them, lesser works by some of our favorite directors; biopics that didn't make justice to the characters they attempted to portrait and much anticipated sequels confirming again the lack of ideas these kind of movies usually show.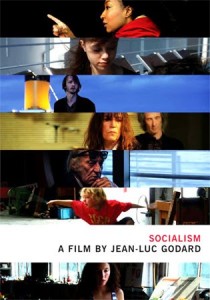 10-FILM SOCIALISME
Jean-Luc Godard

With his background as a nouvelle vague pioneer establishing him as a holy cow; Godard is one of those venerable directors of whom, no matter what they do, the most "refined" part of the critic always acclaim their output. 'Film Socialism' was a sort of cinematic Babel tower in the form of a political essay, shaped through a visual collage where excerpts of interviews with leaders and personalities in several languages juxtaposed themselves with images of a cruise's passengers looking at the sea; appearances of Patti Smith; scenes of 'Battleship Potemkin' and many other puzzling occurrences with no apparent sense or meaning. Semiotic analysts and film students may have found a treasure trove while trying to squeeze out the mysteries of the master's whimsical narrative. To everyone else caution when approaching this 'master piece' is widely recommended. Specialized critics hailed this as "cinema in pure form" and accused the film's detractors of not being able to understand it. We cannot agree more, the purpose of 'Film Socialisme' totally escaped our limited intellects.
Paul Greengrass has consolidated himself as one of the most vital filmmakers of the last decade. His personal direct shooting style, sometimes recalling a handycam for his fast movement and real impression gives a nearly testimonial look to his work and has helped to bring recent terrorist and war related conflicts to the big screen; from the IRA in Ireland ("Bloody Sunday") to the kidnapped flight that crashed during the 9/11 attacks ("United 93"). A perfect choice then to take on the Iraqi war in this movie placed during the investigations looking for weapons of mass destruction, with a thriller format allegedly bringing some light on the conspiracy theories surrounding the manipulated matter. It didn't quite work as political denouncing –the honest and heroic American officer performed by Matt Damon, skipping the rules in order to unveil the corruption plot he discovers, doesn't fit very accurately with real events-; nor as action thriller, lacking of some of the tension and pace that characterizes the genre.
Anton Corbijn left behind decades as one of the most in demand music video director with the excellent biopic of Ian Curtis and his seminal post-punk band Joy Division. The results were so astonishing that Hollywood knocked on his door for his sophomore feature length. 'The American' was a peculiarly light thriller about a contract killer sent to a quiet Italian village for a last job. George Clooney's presence as lead opened the doors to a global public; but the plot's slow development somehow crashed with the genre's requirements and ended up boring us. It's not clear if Corbijn's vision, clearly aiming at an art house opus, was altered by the studios as it featured a huge star; but the compromise to reach a wider audience makes of 'The American' a rather unsubstantial proposition; not being able to find its place anywhere in between the festival circuit and the multiplexes.
Clint Eastwood's latest works are not delivering the fruits that his reputation as director would make us expect. In 'Hereafter' the veteran filmmaker gets out of his comfort zone to reflect about those ones who've had a near death experience and the common elements of their tales. It does that through three storylines located around the world and converging in a rather forced and not particularly interesting way: a French TV presenter victim of a tsunami while on holidays in Asia and a troubled American medium who will help a kid having a last contact with his recently deceased brother. Aware of walking over quicksands, Eastwood doesn't give a clear stand about his beliefs on these matters and carefully avoids entering too deeply into speculative and paranormal territory; which somehow leaves this film in a rather unsatisfactory nowhere land.
The biopic dedicated by the French Film Industry to the country's genius composer promised to become one of the year's biggest events. The life of the ever transgressor Serge Gainsbourg, plagued with romances and scandal, is undoubtedly premium film material. Knowing his merits, Joan Sfar tried to put some distance from the dangerous rules of this genre, without fully accomplish it. If recent examples such as 'La Vie En Rose' heavily focused on important events in the central character's life at the expense of giving him or those surrounding him much depth; Sfar goes a few steps forward with an attempt to analyze Gainsbourg's personality, his insecurities and motivations as well as his achievements, in a rather unorthodox way. But this glimpse at his inner world gets a bit out of control –the imaginary Jewish puppet appearing as a metaphor for the anti-Semite prosecution fear Gainsbourg experienced during his childhood verged on the grotesque- often becoming more of an obstacle than a light in the account of the artist's life story.
5-THE BROTHERS BLOOM
Rian Johnson

High Hopes were placed in Rian Johnson's career after his surprising debut 'Brick' got everyone amazed by his original storytelling and streamlined production. His leap into a bigger project featured all the necessary parts to take it to fruitful conclusion, including a top-notch cast (Adrian Brody; Rachel Weisz & Mark Ruffalo.)
Until it hit the screens many considered it as a potential Oscar contender. However, this tale of two brothers who make a living as con men while traveling the world in search of potential victims and targeting a young heiress to steal her fortune turned into an odd mix of romantic comedy; thriller and heist. But instead of giving it the original perspective the film desperately looked for, that melting pot of genres stripped most of its charm off, turning it into a forgettable and, even worse, terribly boring flick.
4-THE NEXT THREE DAYS
Paul Haggis

Former screenplay writer turned filmmaker Paul Haggis saw his career experiencing a considerable boost when "Crash" stole the Oscar from the hands of "Brokeback Mountain". Since then, however, he hasn't delivered anything of the same category. "In The Valley Of Elah" was a powerful, if flawed, criticism to the effects of war in those soldiers sent to fight on it. "The Next Three Days" is a totally different and far more commercial affair. An adaptation of the superior French thriller "Anything For Her" to the conventional frame of the US thriller – an annoying and every time more common habit in Hollywood. Neither Russell Crowe, nor Elizabeth Banks managed to lift it from being little else than a throwaway product destined for massive audiences. We expected much more from Haggis amply proved notable skills. Quite a shame.
3-YOU'LL MEET A TALL DARK STRANGER
Woody Allen

It may be painful to admit it, but it's been longer than a decade since Woody Allen's music stopped visiting him with the former regularity. His recent films have been diminishing in comic wit and wisdom and, even if from time to time he still shows hints of inspiration ('Vicky Cristina Barcelona' or 'Match Point') that maintain his status as a magnet for stars – coming to him en masse with the promise of a potential reward in the shape of an Oscar statuette-, those ones struggle to reach the heights of his best work. Since he was somehow forced to stop shooting in his beloved New York City; Allen has become itinerant, going wherever he can find financing for his films. His detour in the UK has been particularly divisive. The Brits criticize his lack of knowledge about the classes he depicts, which was always his forte, often crawning in clichés and simplification. "You Will Meet A Tall Dark Stranger" exemplifies all those flaws. Anthony Hopkins, Naomi Watts and Antonio Banderas do their best to get their rather plain roles rolling, but its plot didn't steal a single laugh from us. We can only hope his new film in Paris with Mrs. Sarkozy as part of the cast is the qualitative jump back to shape we've been long waiting for.
Multidisciplinary artist Julian Schnabel has built a celebrated filmmaking career by breaking the traditions of the usual biopic and taking extraordinary life stories –such as exiled Cuban poet Reynaldo Arenas or paralyzed French editor Jean-Dominique Bauby- to the big screen; shot with amazing technical skill. Miral followed that pattern telling the story of three generations of women affected by the Palestine-Israeli fight. It was based on a memoir by Jula Jebreal, who also adapted the screenplay; and featured a cast led by Hiam Abbas and Freida Pinto. Miral was one sorely needed plea for peace and reason against the barbarism of a conflict that has extended over half a century, putting the whole mankind to shame. However, the road to hell is sometimes paved with good intentions and in this case the wide historical; political and human spectrum covered prevents the film from fulfilling its whole promise. Schnabel's careful use of different cinematographic techniques often looks too good and clashes with the dramatic events it describes; the fact that he deliberately avoids taking sides didn't help either; but maybe its worst flaw was the sketchy nature of the patchily connected stories it is based upon.
1-TRON: LEGACY
Joseph Kosinski

We never thought of 'Tron' much more than being another typical Disney fare with a sci-fi theme; but the way it introduced a growing videogame culture into film when the industry was giving its first steps during the 80's was a big influence and has generated an enduring cult lasting up to our days. That's why nearly three decades afterwards, the decision of rescuing it, right when the 80's are back on trend, was received among waves of enthusiasm. The final result, though, wasn't worth the long wait, boasting a script as flat as the original's, but this time with the only technological advance on offer being a rather ropey use of the new 3-D system on its "virtual" part. Effects such as watching Jeff Bridges in front of a mirror image of himself thirty years younger were short of the many wonders promised by its ubiquitous advertising campaign and it all amounted to just another one of the average sequels packing our cinemas.
This post is also available in: Spanish