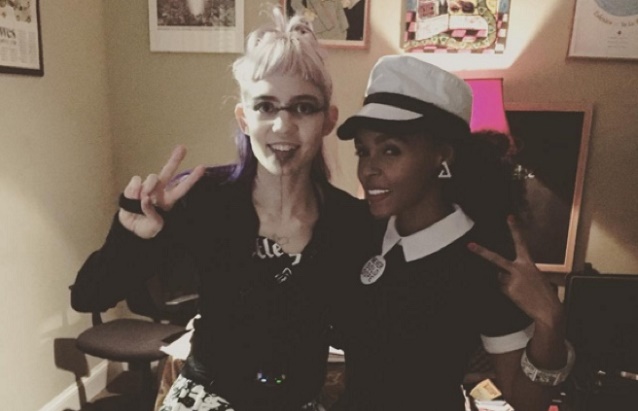 Two of our favourite female artists, Grimes and Janelle Monáe, join forces in 'Venus Fly' and reach the top of the last loop of the year, before we begin our annual best of recap. The track is taken from the young Canadian star's acclaimed second album 'Art Angels.'
Post-hardcore Brooklyn quartet Big Ups is the highest entry on an edition that features both a glimpse into some of the next years' most anticipating releases: Antony's courting with electronica through his new monkiker, Anohni; Animal Collective; Erykah Badu feat. Andre 3000; Chupa Cabra; dvsn; Chairlift; Aesop Rock with Homeboy Sandman; Lucas DiPasquale with Popcaan; Suede and M. Ward among them.
And also features last minute tracks released by some of the biggest artist of the year, as a reminder to take them in consideration for best of lists, such as Kendrick Lamar; Bjórk; Fetty Wap; Oneohtrix Point Never; plus the return of Phoenix, teaming up with Bill Murray on a version of a Beach Boys track for the Hollywood star's Netflix Xmas special.
Check the last loop of 2015 here:

1-GRIMES FEAT. JANELLE MONÁE
Venus Fly
(4AD)



2-SHYE BEN TZUR, JONNY GREENWOOD & THE RAJASTHAN EXPRESS
Julus
(Nonesuch)



3-FREDDIE GIBBS FET. BLACK THOUGHT
Extradite
(ESGN)



4-D∆WN
Hollywould
(Our Dawn)



5-JULIA HOLTER
Silhouette
(Domino)



6-MASS GOTHIC
Nice Night
(Sub Pop)



7-ASTROPOL
Make Love Stay
(INGRID)



8-FRANCES
Borrowed Time
(Capitol)



9-ANNA MEREDITH
R-Type
(Moshi Moshi)



10-TY DOLLA $IGN FEAT. KENDRICK LAMAR, BRANDY & JAMES FAUNTLEROY
LA
(Atlantic)



11-EDDI FRONT
Goldie
(EF)

12-TAME IMPALA
The Less I Know The Better
(Modular)



13-JAY ROCK FEAT. KENDRICK LAMAR
Traffic Jam
(Top Dawg)



14-STORMZY
Standard
(Self-Released)



15-WILD NOTHING
To Know You
(Captured Tracks)



16-BIG UP
Capitalized
(Tough Love) (NEW)



17-ERYKAH BADU FEAT. ANDRE 3000
Hello
(Self-Released) (NEW)



18-ANOHNI
4 Degrees
(Rough Trade) (NEW)



19-ANIMAL COLLECTIVE
FloriDada
(Domino) (NEW)



20-CHUPA CABRA
My Girl
(Too Pure) (NEW)



21-dvsn
Too Deep
(Self-Released) (NEW)



22-CHAIRLIFT
Romeo
(Columbia) (NEW)



23-THE TALLEST MAN ON EARTH
Darkness Of A Dream
(Dead Oceans) (NEW)



24-AESOP ROCK & HOMEBOY SANDMAN
Katz (Lice EP)
(Self-Released) (NEW)



25-I.F.O. FEAT. AFRIKA BAMBAATTA
Nibiru
(Other People) (NEW)



26-LUCAS DIPASCUALE FEAT. POPCAAN
No Promises (Post-Secondary EP)
(Universal) (NEW)

27-ONEOHTRIX POINT NEVER
Ezra
(Warp) (NEW)



28-ROLY PORTER
4101
(Tri Angle) (NEW)



29-POSTILJONEN
The Open Road
(Best Fit) (NEW)



30-GUM
Anesthetized Lesson
(Spinning Top) (NEW)



31-BJÖRK
Mouth Mantra
(One Little Indian) (NEW)



32-KENDRICK LAMAR
Black Friday
(Top Dawg) (NEW)



33-BJ THE CHICAGO KID FEAT. JOEY BADA$$
Nothing But Love
(Self-Released) (NEW)

34-M. WARD
Girls From Conejo Valley
(Bella Union) (NEW)

35-SUEDE
Live Kids
(Warner) (NEW)



36-ODIOPARIS
Camposanto
(Mushroom Pillow) (NEW)



37-STILL CORNERS
Horses At Night
(Self-Released) (NEW)



38-JEHNNY BETH & JULIAN CASABLANCAS
Boy-Girl
(Pop Noir) (NEW)



39-FETTY WAP FEAT. HOUSE PARTY
Ferrari Music (For My Fans EP)
(Self-Released) (NEW)



40-PHOENIX FEAT. BILL MURRAY
Alone On Christmas Day
(Loyaute) (NEW)