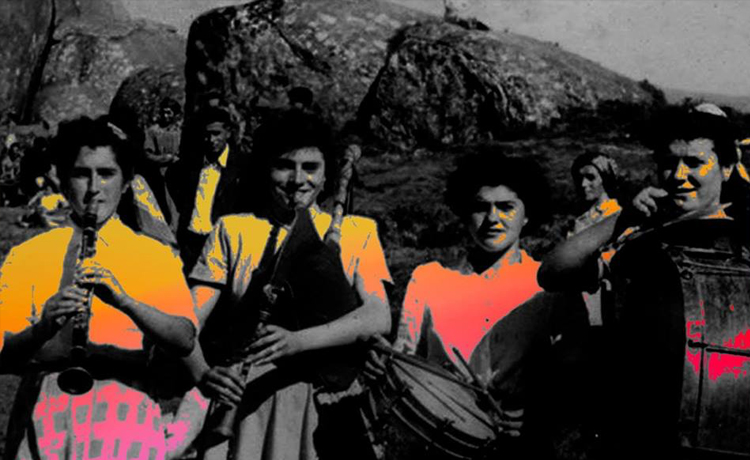 With a very personal blend of traditional of Galician Folkore and electronica, Alejandro Guillan's project Baiuca reworks the traditional chants of Aliboria in the hypnotic 'Caroi,' the second teaser from his brand new EP, 'Misturas' which is the new number one in a loop whose top 5 is one of the most musically diverse in recent memory. With the enchantic ambient of the new project by Grouper's Liz Harris, Nivhek; the trendy electronic pop of Sophie collaborating with Kim Petras; the groundbreaking urban sound of Jamila Woods; as well as the revival of Andalusian rock by Derby Motoreta's Burrito Kachimba and their particular kinkidelia, completing the week's Top 5.
The long awaited return of Kiwi songstress Aldous Harding, 'The Barrel,' is the highest entry, followed by the likes of Vampire Weekend; Munya;Tierra Whack; Claud; Ebhoni; Freddie Gibbs & Madlib; Marissa Nadler & John Cale; Ariana Grande; Ladytron; Vendredi-Sur-Mer: Chromatics: Stephen Malkmus and the second album by South African gay R&B singer Nakhane helped by ANOHNI on his album's lead track.
Check Our Loop in full here.
YouTube Video Gallery
1 Baiuca con Aliboria – Caroi 2
2 Nivhek – After Its Own Dead: Side A 2
3 Kim Petras feat. SOPHIE – 1,2,3 dayz up 2
4 Jamila Woods – ZORA 2
5 Derby Motoreta's Burrito Kachimba – El Salto Del Gitano 2
6 Broken Social Scene – Boyfriends 2
7 Damien Jurado – South 2
8 Drugdealer – Fools 2
9 Aldous Harding – The Barrel NEW
10 Vampire Weekend – Harmony Hall NEW
11 MUNYA – Benjamin NEW
12 Tierra Whack – Only Child NEW
13 Claud – Easy NEW
14 Ebhoni – TGM NEW
15 Freddie Gibbs feat. Madlib – Flat Tummy Tea NEW
16 Marissa Nadler & John Cale – Poison NEW
17 Salaam Remi feat. NAS and Amy Winehouse – Find My Love NEW
18 Ariana Grande – fake smile NEW
19 Ladytron – Tower of Glass NEW
20 Roses Gabor – Turkish Delight NEW
21 Vendredi-Sur-Mer – Chewing-Gum NEW
22 MARINA – Handmade Heaven NEW
23 Chromatics – Time Rider NEW
24 Tiny Ruins – My Love Leda NEW
25 Virgin Pool – The Wanderer NEW
26 Helado Negro – Running NEW
27 Stephen Malkmus – Rushing The Acid Frat NEW
28 Versing – Tethered NEW
29 Cherry Pickles – It Will All End in Tears NEW
30 Swindle – Coming Home NEW
31 Nakhane feat. ANOHNI – New Brighton NEW
32 Offset – Red Room NEW
33 SASAMI – Free NEW
34 RY X – Untold NEW
35 Cleo Sol – One NEW
36 Marianne Faithfull – Port Of Amsterdam NEW
37 Nuff Pedals – Swollen Minds NEW
38 Charlotte Adigéry – Paténipat NEW
39 Absolutely Not – Glitch NEW
40 Lydia Ainsworth – Can You Find Her Place NEW