Our third festival chronicle features one of the best and most bizarre films of the year, 'The Lighthouse;' A controversial; female gaze depiction of the boundaries between sexual desire and abuse, 'Instinct,' and a surprisingly enjoyable exploration of the sexual life of a young woman with cerebral palsy in the Japanese dramedy '37 Seconds.'
Robert Eggers' follows his acclaimed debut, 'The Witch' with what is likely to be the most unique cinematic experience of the year, 'The Lighthouse.' An extraordinarily well-crafted Gothic tale of two men's descent into madness which, like its former work, is as preoccupied with providing accurate historical and literary context to its story, set in the 19th century and perhaps somewhere in New England; as it is with creating an increasingly threatening atmosphere to disturb and scare the viewer.
A young man –a never better Robert Pattinson- arrives to an isolated island to work for four weeks as the assistant of a Lighthouse keeper. Their personalities seem to crash from the beginning. His intense new boss is an old seaman, played by a Willem Dafoe also on top of his game, keen on talking in rhymes and bring old maritime myths and wisdom to the conversation. His abusive and commanding behaviour will soon lead to an increasingly verbal and physical confrontation with both men fighting their respective grounds.
The keeper's main task is looking after the light, which seems to have a secret, hypnotic property that makes him jealous to share with anyone. His new assistant is given the rest of the workload, and despite is reserved and sensible attitude, keeping himself to himself and avoiding the booze-driven; aggressive manner of his veteran partner, begins having obscure nightmares mixing the unwelcoming feeling of its claustrophobic surroundings and the growing animosity between the two with the iconography of sea superstitions; hints of a possible criminal past and sexual repression.
As the two men's everyday relationship continues its rocky trajectory, this mix of unsettling elements will lead to circumstances spiralling out of control, as visually symbolised by the staircase in the tower that seems to keep the impending mysteries surrounding it at bay. This extreme psychological tension comes to the point of no return when the assistant ends its four week period and weather circumstances prevent his returning boat from arriving, forcing him to stay for an unknown, longer period of time, when provisions become scarce and the hints about his predecessor having also gone mad begin to take its toll.
Eggers takes extreme care on recreating the language; the folk tales and the conditions of living during that period. Literature wise there are echoes of 19th century classics such as Melville's Moby Dick or a dark atmosphere which could have been imagined by Edgar Allan Poe; but also of nautical folklore; sea shanties; etc… Although using the square format of academy ratio to illustrate a claustrophobic situation has become quite a common device, Jarin Blaschke's cinematography masters it by creating a suffocating sense of unwelcoming space that's instrumental for the development of the storyline, while Mark Korven's experimental soundtrack, full of bouts and waves of sound, perfectly underlines the intensity of the images.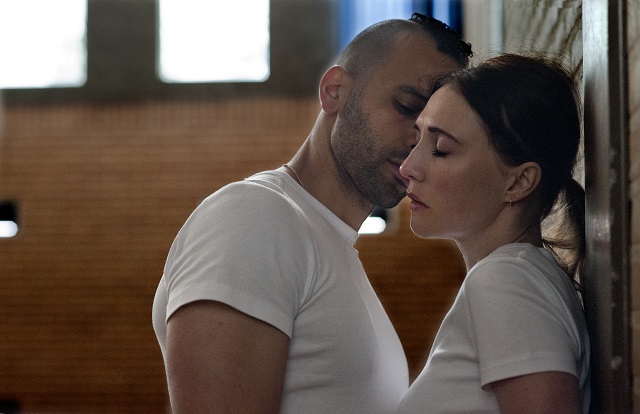 Less successful but also enjoyable, almost at the level of a guilty pleasure, was 'Instinct,' the debut feature by Halina Rejin. The Dutch actress turned director's first opus is greatly enhanced with two good lead performances by Carice Van Houten, better known as the sorceress in 'Game Of Thrones,' and a magnetic Marwan Kenzari, as a veteran psychologist arriving to a penitentiary and the repeated sex offender on his way to social reintegration she begins to counsel, respectively.
The psychologist suspects, against the consensus of her colleagues, the convict is not ready to change his behaviour; yet a fatal attraction grows between them, putting her in a rather unprofessional situation that will test the limits of mutual consent, set to explore the boundaries between sexual desire and abuse.
With a better screenplay this could have been an interesting reflection about those highly controversial cases in which a rape victim is not fully believed by a judge for the context of the crime leaves in doubt her consent. But although the film has not a judiciary element and it firmly sticks to the "no is no" motto, its rather relaxed depiction of life in that penal institution, where inmates move around as freely as if they were the pupils of a cookery class, does not exactly creates an strong impression of reality. Neither does the rule breaking sexual attraction, reluctantly leading to foreplay, between doctor and patient, where the crash between an infatuated but consciously rejecting female and the advances of a man who would not take a no for an answer generate a number of quite arousing scenes. But as it is, 'Instinct' works better a a re-imagination of the erotic thriller for the #metoo era, than as anything more serious. And this day and age, it could have only been made, as it is the case, under the perspective of a female gaze.
Escaping from one of the disappointments of the year, Taika Waititi's ambitious, but rather bland and panto-like, 'Jojo Rabbit', whose mix of Wes Anderson aesthetics and parody of Nazi Germany did not exactly rocked our world; we found another of our discoveries of the festival, the debut feature of female filmmaker Hikari, '37 Seconds.'
The Japanese director won awards at the Berlinale with this tender and nicely observed exploration of the sexual life of the disabled. She does so through the character of Yuma, a wheelchair-bound young woman, impressively played by Mel Kayana -an actress with cerebral palsy- and manga artists who, suspecting her drawing talents are being used and abused by her employer cousin, starts looking for work elsewhere. Coming across some adult comics, she contacts an agency specialised on those, but gets rejected as her sexual scenes don't ring true.
Yuma is determined to get the necessary experience, and resorts to an escort on a hilariously frustrated first experience. Soon she'll find an unexpected ally in a sex worker who also has a regular wheelchair-bound costumer, giving her tips and helping her sexual awakening, which in turns creates a problem with her overprotective mother, who seems to fail at treating her as an adult.
'37 Seconds' is a fresh, nor prudish or condescending representation of the disabled and their search for autonomy, independence and identity in a world that does not always facilitate it. Formally it is shaped as a typically cute Japanese teen comedy, even resorting to animation and the hyper-commercial aesthetics habitual in products aimed at the youth market, with an always polite and non controversial tone that helps with the normalisation of some of the themes it deals with.
The film's final act, in an attempt to round the story up, changes direction to further explore the protagonists' broken family, resorting to less convincing, rather tear-jerking plot devices. But altogether, this is a fully enjoyable and refreshing take on a subject difficult to portray on a balanced way as it is still often considered nearly as a taboo in our society.