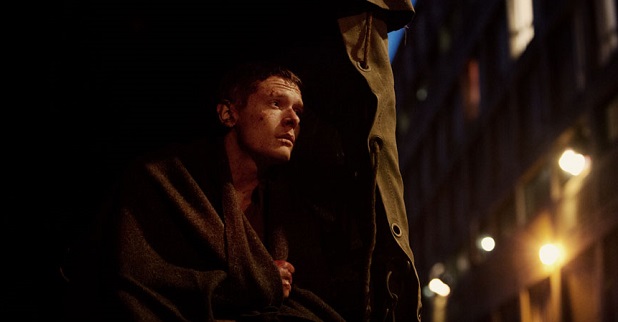 On a particularly strong year for British film, '71 marks the arrival of a huge talent who has crafted one of the most impressive first features of the year. Yann Demange's career to date was developed in TV, with directorial credits for episodes in such popular series as Top Boy or Criminal Justice packing his CV. Demange has jumped now to the big screen with this impossibly tense, edge of the seat thriller.
71' takes us back to the time where sectarian violence was exploding in the streets of Belfast, through the story of a young British squaddie, sent there to back the pacifying efforts, lost at the heart of the riots right from the start, when taken to the streets of Ulster and a population revolt escalates. His orders are not to shoot, but a bunch of kids take another soldier's gun and he tries to help him, finding himself left behind by the rest of the squad among the upsurge's confusion.
From the moment his fellow squaddie gets shot and he narrowly manages to escape the same fate,'71 becomes a fully-fledged, exhilarating chase film where pursued by the local militians, he's forced to put into practice his survival instincts across the unknown, hostile neighbourhood and its labyrinth of alleyways and estates. While unwillingly witnessing the "collateral damage" caused by convoluted political negotiations of the time, a number of unlikely helpers will came his way, none of them able to keep him safe for long as his mere presence means a liability for everyone.
Jack O'Connell gives a terrific and complex central performance, which not only excels at the character's extreme physical requirements, but also touchingly shows vulnerability and suffocating anxiety, defying the hero-like stereotypes of the genre's similar roles. The former protagonist of Skins, one of the fastest rising stars of 2014, began the year earning critical acclaim for prison drama Starred Up and '71 will certainly help boosting an already excellent reputation before Angelina Jolie's Oscar-tipped directorial effort 'Unbroken' opens the gates of Hollywood A-list stardom for him. The solid cast also boast notable turns by Sean Harris; Paul Anderson and Sam Reid, whereas electronica master David Holmes enhances the menacing and intense atmosphere with a superb soundtrack.
Perhaps '71 less accomplished aspect is the lack of insight it provides about the depicted conflict; despite an unequivocally firm position against the dark interests often behind violent confrontations, it could have been easily set during any other rebellious situation from the past (or the future) with equally dazzling results. Yet everything on it has been made with such care and breath-taking technical skill that it would be hard to argue it's anything other than a resounding success. ★★★½