Archive for category FILM REVIEW
BLACK MOTHER Khalik Allah
The Frames Of Representation Film Festival is ready to raise its curtains featuring once again an unique selection of films which push aesthetic and political boundaries. In only three editions, FoR has consolidated itself as an unmissable forum for those who like cinema at its most ground-breaking, challenging in both form and content. The annual event celebrated at London's ICA is described by its curator, Nico Marzano, as "a laboratory conceived to engage with new visions of cinema through supporting the presentation, production and distribution of innovative and politically challenging cinematic languages".
Last year it was dedicated to ideas about "Working" and boasted the UK premieres of two of our favourite films of 2017, Jorge Thielen Armand's 'La Soledad' and Eduardo Williams' 'The Human Surge.' This year's main concept is "Landscape." and standout works from the programme such as Salomé Lamas' 'Extinction' or Nelson Carlos De Los Santos Arias' Cocote' are also likely to be among 2018's most thought-provoking and best.
Frames Of Representation will take place from April the 20th until the 28th and will showcase thirteen features and six short films from 16 countries linked together by a strong sense of place, instrumental in the depiction of the issues they reflect upon, blending the poetic with the factual; documentary with fiction and the personal essay with their wider social and political contexts. All of them are UK or European premieres for which the ICA will host Q&As with their respective directors, presented alongside a diverse series of workshops, symposiums and other related activities. Here's a small preview featuring our picks from this year's edition: Read the rest of this entry »
Based in the Dostoevsky's short story of the same title, Ukrainian director Sergei Loznitsa portraits contemporary Russia as a corrupted and dehumanised society on his third feature, 'A Gentle Creature,' telling the ordeal of an ordinary woman living in a small village whom, after a parcel sent to her jailed husband gets returned for no apparent reason and failing to gather any further information, embarks on a journey to the prison where her partner is held.
Her allegorical journey, a labyrinthine descent into social and bureaucratic hell in which she will experience a cycle of abuse and degradation from the shady characters she encounters in her way, paint a grim picture of the moral decay of the country. Lead star Vasilina Mokovtseva gives a remarkably restrained performance focused on the stoicism of her character, who impassibly endures the humiliations thrown at every step of her search for the whereabouts of her husband, passively letting herself being pushed around. Read the rest of this entry »
2016 marked the 50th anniversary of Ken Loach's BBC drama Cathy Come Home (1966). Its innovative mix of documentary and fiction had enormous social impact and helped to create awareness on homelessness in Britain, using a medium which had rarely seen before such a controversial matter brought to its audience. In turn, the upheaval it caused led to government debate and the creation of the charity Shelter. At an early stage of Loach's career, the play transcended the realm of entertainment and already showcased most of the qualities his films are renowned for.
The director is considered the pre-eminent contemporary representative of a long standing British tradition of social realism in cinema, which has its roots in the documentary film movement of the 1930s and 1940s, led by John Grierson, and the wartime work of Humphrey Jennings. Read the rest of this entry »
Before 'The Third Murder' was premiered at the Venice Film Festival, early rumours trumpeted Hirokazu Kore-eda had gone all noir. Perhaps Today's most acclaimed Japanese auteur, the filmmaker's trademark has always been his humane and intimate look at family relationships, often with an emphasis on children and the elderly. This interest for the family has earned him comparisons to Ozu, despite seeing himself closer to more contemporary directors such as Ken Loach. That's why this sudden turn to darker territories came as a surprise. 'The Third Murder' may not confirm those first impressions, but nonetheless is a significant change of register for the director who, this time, delivers a powerful anti death penalty indictment through a legal drama that explores its core murder mystery as much as its moral repercussions for everyone involved. Read the rest of this entry »
AND OUR FAVOURITE FILMS OF 2017 ARE…
Read the rest of this entry »
As Oscars' night punctuates the end of the year in film for the industry, our blog traditionally releases its annual recap of the surprises and trends that have shaped the last twelve months of cinema, as well as our list of favourites.
2017 has been a good year for films; yet rather than for its cinematic crop it will certainly be remembered for the seismic shifts it brought in cultural and social forces, prompting a significant change across all areas in our industry. The choir of voices calling for more diversity, equality and inclusiveness had been growing for a few years, but perhaps triggered by that ice storm of ultra conservative policies in Trump's America; feminist movements, ethnic minorities and LGBT communities have joined their efforts, as they did during the 1960's, in order to facilitate those changes.
From the beginning of the year, films such as Jordan Peele's 'Get Out,' a horror film inspired in the black community's anxieties about the way they are being used by their white counterparts, or Luca Guadagnino's Call Me By Your Name, which broke the usual tropes depicting homosexuality as a guilt-ridden source of personal drama, to portray instead a luminous and enjoyable summer romance, were the toast of Sundance, set the tone going all the way to become favourites of the Awards Season. In the second half, the controversial #MeToo movement stole the show and its narratives, creating shock waves around the world when stars who had been victim of sexual abuse began making their stories public. The consequences have been enormous, and there are more still to come. It put an end to Harvey Weinstein's sleazy empire and has affected a rapidly growing number of professionals from all the corners of the industry. Its impact on this year's awards season has been unprecedented, from perennial Academy favourites such as Woody Allen forced to cancel the red carpet for the premiere his latest work, 'Wonder Wheel', to Ridley Scott's dramatic reshoot of 'All The Money In The World' replacing Kevin Spacey with Christopher Plummer. Now consolidated as Time's Up, a platform to help victims of all sort of harassment, the #Metoo initiative was dismissed by the few who dared questioning it as a witch hunt which was at risk of hurting the reputations of many without allowing them their right to a fair legal procedure. Read the rest of this entry »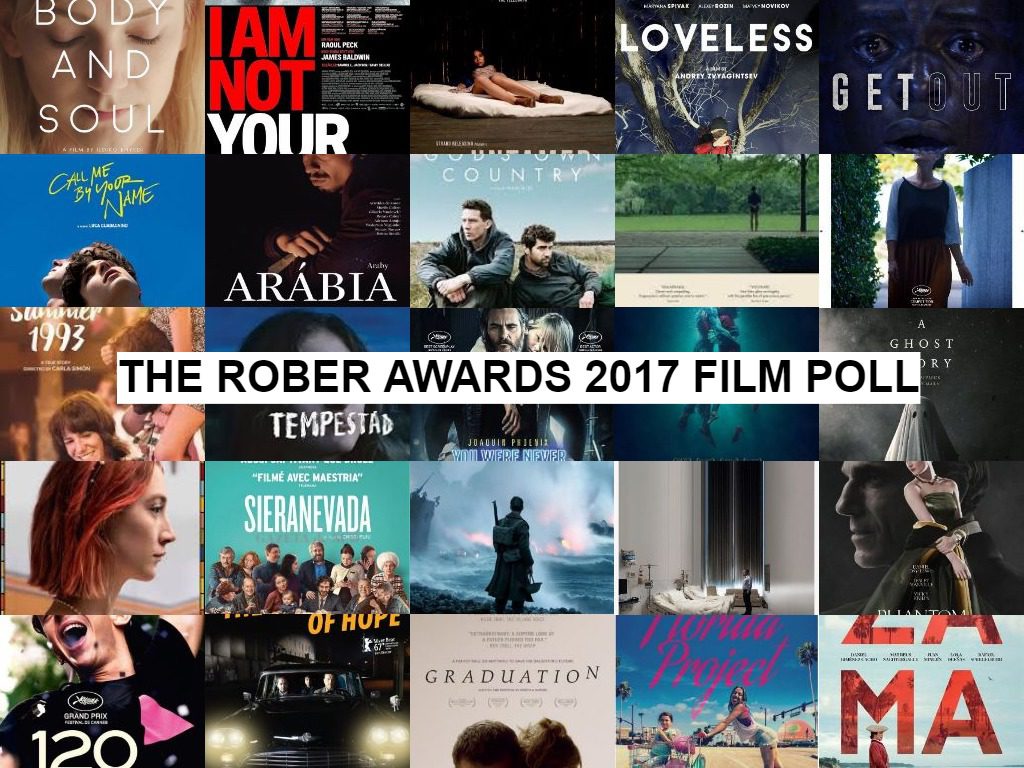 The 2017 Rober Awards Film Poll is up and running, open for everyone to cast their votes. Sean Baker's extraordinary look at the lives of the American underclass in The Florida Project leads the list of nominees with eight, followed by gay romances Call Me By Your Name and God's Own Country and Lynne Ramsay's psychological thriller You Were Never Really Here with six each.
Christopher Nolan's recreation of the Dunkirk evacuation; Greta Gerwig's personal account of her teenage years in Lady Bird; French AIDS drama BPM (Beats Per Minute); Paul Thomas Anderson's superbly crafted Phantom Thread and Lucrecia Martel's big screen adaptation of Zama are among the other films with multiple nominations.
To refresh our memories recalling the best films of the year and help with your deliberations, here's a Spotify playlist with excerpts from the soundtracks of most of this year's nominated films. Read the rest of this entry »

…And the nominees for best picture are: Read the rest of this entry »

…And the nominees for best director are: Read the rest of this entry »

…And the nominees for best actor are: Read the rest of this entry »

…And the nominees for best actress are: Read the rest of this entry »

…And the nominees for best acting ensemble are: Read the rest of this entry »

…And the nominees for best supporting actor are: Read the rest of this entry »

…And the nominees for best supporting actress are: Read the rest of this entry »